Here's everything you need to know if you're interested in teaching English online from home. From qualifications to the interview process, and office setup.
The online English teaching industry is enormous.
That means there are countless businesses, students, and jobs out there waiting for you to teach English online from your own home. And you can teach English online with no experience, provided you have a bachelor's degree of some kind, as you will receive training from the company.
A lot of us have considered teaching English online as a job, but a lot of questions come with it: where do I start? What qualifications do I need? What equipment and materials are required? Where do I look? Can I do it from home? Do I need to speak their language?
Here, we are going to answer all of these questions and more, then show you how you can teach English online from home. First, let's answer the most important question: Why teach English online in the first place?
(Disclaimer: This is all coming from a place of personal experience. We are a pair of qualified and experienced former teachers. We each hold a PGCE and a TEFL certificate, and have each taught English in several countries, both in the classroom and online from home).
Read More: 20 Best Online Jobs For Freelancers And Digital Nomads
Why Teach English Online?
This seems like an obvious question but, if you're on the fence about the job, you'll want to weigh the pros and cons of teaching English online from home before you jump right in. So, let's break it down and go through a few key benefits of the job.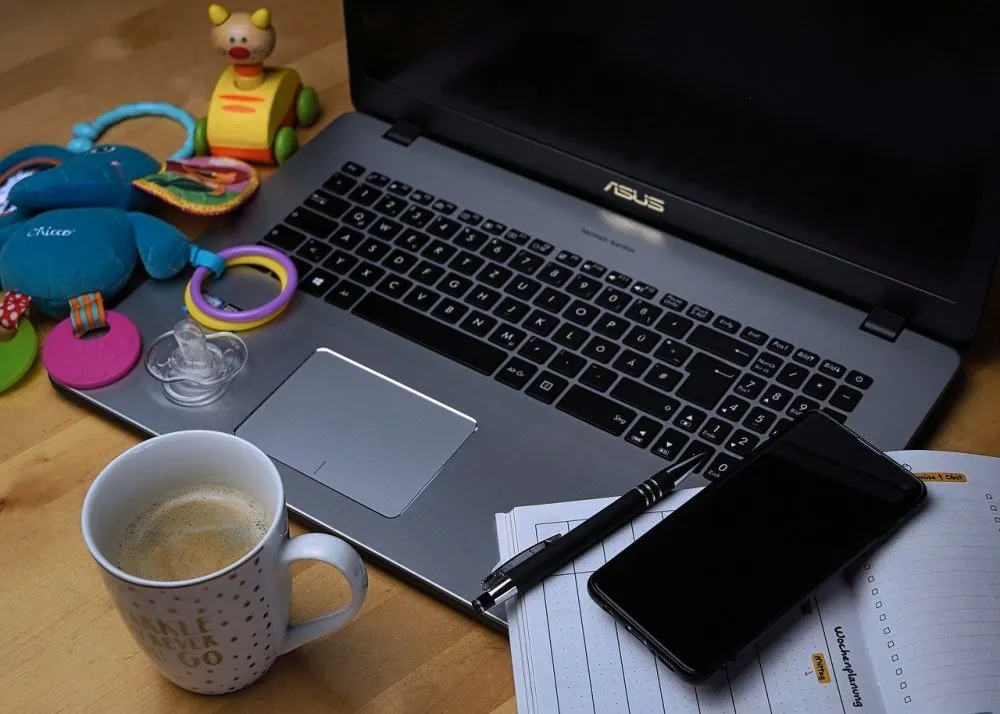 Being able to work from home
As the world begins to shift and change, working from home is becoming more and more commonplace. For teachers, this shift is awkward but one way to jump aboard the WFH train now is to teach English online. This means you have no time or money wasted on commuting to work. You don't need a car. All you need is an internet connection and, preferably, a desk space.
Working from home means that, when you're done, you can walk a few feet to your kitchen to make lunch. You have your home comforts all around you, you are fully in charge of your own space, and you can feel more at ease than any of us ever do in an office or a classroom.
Managing your own schedule
Most companies that teach English online offer their teachers a certain amount of flexibility. They may stipulate a minimum number of weekly teaching hours, but they can be spread around as you please.
For example, maybe this is a second job and you can only teach English online over the weekend. Or maybe you can only work mornings. Or maybe you're a night owl and you'd rather sleep in than teach your classes later. All of this is normalised for those of us who teach English from home.
Read More: Working From Home Efficiently (11 Tips and Tricks)
Being your own boss
Now, obviously, if you choose to teach English online, you will have a boss to report to; someone who organises your students, your schedule, and your teaching materials. But this person is not in your house. The job offers a comfortable amount of distance from your colleagues and managers, which is all a lot of us need in order to enjoy our work more.
And, to a degree, you are your own boss. As we've already mentioned, you can plan your schedule around your life and design your own workspace as you like it. There is a lot of extra freedom that comes with teaching English from home.
No classroom management issues
Many people who choose to teach English online already have some form of classroom teaching experience. If this is you (and it was certainly me), you know that classroom management is more than half the job of being even a competent teacher.
I could go on a long rant about the state of the education system and how classroom organisation and scheduling is detrimental to all students' wellbeings but, as it pertains to teaching English online, suffice to say there is no classroom management to speak of.
Most classes are one-on-one with a student who is also at home. They have their parents there to support them. And you have a world of distance from them which allows for a lot more comfort on your end.
The Necessary Qualifications
The most essential qualification you need to teach English online is a bachelor's degree. While most companies encourage (or demand) their teachers to have a specific teaching qualification (TEFL, TESOL, CELTA, DELTA, PGCE etc), some will accept only a bachelor's degree. Just bear in mind that these never pay as well.
Fortunately, anyone with a bachelor's degree and a small amount of money can get an online teaching qualification. And you can certainly teach English online with no experience, as long as you have a degree. So, let's quickly talk about how to do that.
Finding a TEFL or CELTA Course Online
There are two distinct English teaching course types: TEFL and CELTA (with a few variations of each). TEFL stands for Teaching English as a Foreign Language and you can take a TEFL course online with relative ease.
Taking a TEFL course online requires a few hundred dollars and at least 100 hours of spare time which you'll need to dedicate to your studies. Here is a link to TEFL.org, a website which offers a selection of different options to find a TEFL course online. They also link you to potential TEFL jobs once you've secured your own TEFL certificate online.
As for taking a CELTA course online, that is a little more complicated but it can be done to an extent. CELTA (which stands for Certificate in Teaching English to Speakers of Other Languages) are considered more impressive than TEFL certificates and, as such, take longer, cost more to get, and involve a practical element.
A CELTA is a kind of master's degree in TEFL, and requires a few months of intense study, but the pay-off is a qualification that employers very much respect.
Take a moment to browse Cambridge English and find all the details there that you need, including a downloadable FAQ on how to take a CELTA course online. Just bear in mind that you cannot complete a CELTA online exclusively; you will be required to do some face-to-face study and practical work. But the online option does allow for reduced costs because many elements of the CELTA course are basically digitised.
Before Getting Started: What equipment, tech, and materials do you need?
If you've got your bachelor's degree and your TEFL or CELTA certificate, it's time to make sure your at-home workspace is ready and suited to the job. Fortunately, this is all fairly low-maintenance.
Here is a quick checklist of all the equipment you'll need to teach English online from home:
The above equipment is your bare minimum essentials. You may also want to invest in other teaching materials like maps, alphabet charts, and other visual aids. These might include photos or drawings of simple animals and objects. Or they might be actual examples that you have in your house: books, stationery, furniture, pieces of tech. If you have a dog or a cat, that can be a fun bonus, too.
Most companies prefer their teachers to have a clear and expressive space behind them for the students to look at. Remember: most online teachers are teaching English to children. That means bright and colourful backgrounds, a well-lit room, maybe a whiteboard or a blank wall to stick things on (like images and keywords).
You need to curate your space to be a good learning enviroment for your students.
Everything they can see through the webcam should be something they can learn from. This means maps, letters, words, and images. Your desk should be populated with things you can pick up and use as examples when you're teaching.
Application & Interview: What to Expect
Once you've found a few companies you're interested in working for (you can find links to a few of them further down), you'll need to go through an application and then an interview process. Following the interview, there may be a small period of online training as well.
There's honestly not much to say about the application process. It's very similar to any other job application.
They will probably ask for your CV/resume, proof of your qualifications (a TEFL or CELTA certificate and a scanned copy of your bachelor's degree). They may also ask for a cover letter. Keep it to a single page in length.
As for the interview process, it's very likely that it will include a short practice lesson. You might be provided with some teaching materials, and some specific vocab and grammar to teach. With that, you'll be given time before the interview to plan and practice presenting (not sorry for the alliteration) your interview lesson. Make sure that your workspace looks how the company has specified before you start.
Where to Find Online Teaching Jobs
There are two ways to go about finding online teaching jobs: searching for companies directly on Google, or searching through specific job search websites. Let's look at a few examples of both to make your job search a little easier.
Online English Teaching Companies
Here is a quick list of a few popular companies. Most of these specialise in teaching English online to Japanese students, Korean, students, or Chinese students.
DaDa – A company which pairs teachers from Europe, North America, and Australasia with children in China aged 4-16.
EF (English First) – EF offers you the choice between teaching children or adults. They also have offices based in China if you ever want to try moving there and teaching face-to-face (for more information on moving to Asia to teach English, you can check out this article).
VIPKID – Very similar to DaDa, teaching Chinese kids online. You can do your own research to see which company is right for you, or simply apply to both.
Teaching Job Search Engines
Here are a few sites that can offer more information and recommended jobs for people looking to teach English online.
Teachaway – This is a fantastic online community that points you to everything you need to know, including finding a TEFL course online, finding online teaching jobs, and even moving abroad to teach English.
TEFL.org – We've mentioned this site already but they are a fantastic resource for not only getting your TEFL course online but also finding the right online teaching jobs for you.
GoAbroad – This is a site that falls somewhere between the first two, offering a range of means for you to either go abroad to teach and work, or find online teaching jobs where you can work from home.
Read More:
Best Cities in Southeast Asia for Remote Workers